HUNTINGTON BEACH, Calif. August 5th, 2022 – This year the Surfers' Hall of Fame will celebrate its 25th anniversary with a rededication ceremony from the Pai Family, who founded the Surfers' Hall of Fame memorial to the world's best surfers, industry leaders and those who have supported the stoke of surfing. In addition to the rededication ceremony, the Surfers Hall of Fame will induct its 2022 honorees including Peter Mel, Martin Daily and Michele Turner on Friday, Aug. 5 at 9am at the corner of Pacific Coast Highway and Main Street.
"As we commemorate the 25th anniversary of the Surfers' Hall of Fame, we want to take a moment to rededicate our commitment to the Surfers'Hall of Fame and to surfers and surfing at the epicenter of the Surfing World," said Aaron Pai, founder of Surfers' Hall of Fame. "This year's honorees have contributed so much to riding waves, and supporting our Surfing Community, and staving off hunger after a local surf session. We are grateful to Peter Mel, Martin Daly, and Michele Turner for their commitment to surfing and the surf community."
The honorees include:
Surfer Peter Mel is a legendary big wave rider who found his footing on the Big Wave Tour where he was crowned champion in 2012 and has continued to surf big waves, winning contests over the past three decades. Mel placed first in the 1997 O'Neill Coldwater Classic, 1stin the Billabong Pico Alto Copa Burn, and 1st in the 2013 Mavericks Invitational. Most recently Mel was awarded the 2021 Red Bull Big Wave ride of the year for a Mavericks giant. Mel is also a broadcaster for the World Surf League and his commentary brings valuable insights and the perspective of experience. Peter Mel has influenced generations of surfers on how to catch and
surf big waves! Mel is known as "big wave' surfer and his son John Mel is a four-time surfing National Champion.
Surfers' Hall of Fame
The nation's first imprint collection of legendary surfers, the Surfers' Hall of Fame celebrated its first induction in 1997 inside of specialty retailer Huntington Surf & Sport where several slabs remain. Four years later with the blessing of the City Council and a stunning bronze statue of Duke Kahanamoku serving as a backdrop, the ceremony moved outside to the corner of PCH and Main, less than 100 feet from the famed Huntington Beach Pier, site of the Vans U.S. Open of Surfing.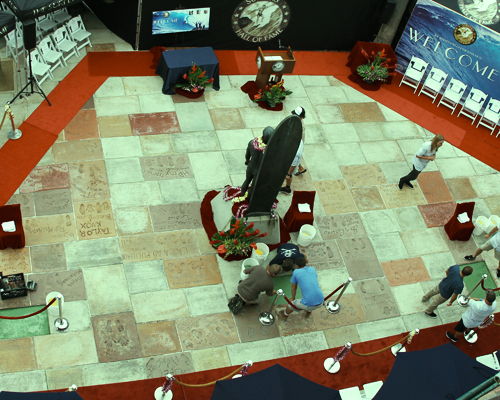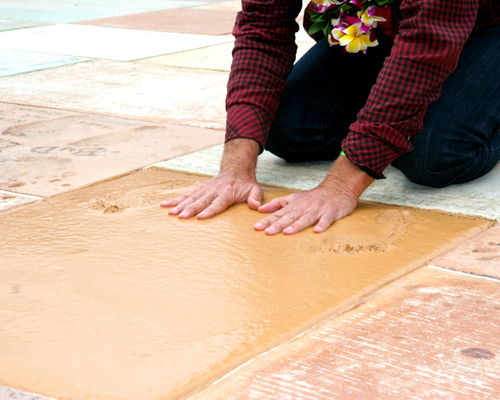 The Pai Family along with the Surfers' Hall of Fame is steadfast in their passion to continue this legacy of paying tribute to those who contribute greatly to the sport of surfing.
The Surfers' Hall of Fame induction ceremony pays tribute to those individuals who have made an indelible mark on the sport, industry, and culture of surfing. Annually, tens of thousands of visitors travel to Huntington Beach's downtown area and literally walk in the footsteps of surfing superstars and legends from several eras including Laird Hamilton, Andy Irons, Jack O'Neill, Robert August, Bob Hurley, Sean Collins, Kelly Slater, Lisa Andersen, Gerry Lopez, George Downing, Ben Aipa, Shane Dorian, Greg Noll, Corky Carroll, Rick Fignetti, Shaun Tomson, Rob Machado, Sumo Sato, Timmy Turner, Ryan Turner, Casey Wheat, Shawn Stussy, Rabbit Kekai, Bethany Hamilton, Mick Fanning, Brett Simpson and many more, who are already immortalized in cement.